Positive Training for Positive Results
We provide ongoing support to our clients through consultations, on-site classes and seminars, and referrals to holistic practitioners. Call or stop by and find out about all The Raw Connection has to offer.
Meet our Trainers…
Andee Burleigh, CPDT, of Divine K-9 Dog Training.
NOTE: Due to COVID-19, Andee has currently paused group training. Please call for private training info:
Primary number: (831) 214-4163
Secondary number (leave messages): (831) 625-7592
In 2005 I became a Certified Professional Dog Trainer via the Certification Council for Professional Dog Trainers. I attend national conferences, seminars, and stay current with books, professional journals and whatever I come upon that relates to dogs, their training, health and well-being. This keeps me up-to-date on research and training methods.
As an advocate for canine wellness, I was pleased to be invited to teach dog training classes at The Raw Connection when it opened in April, 2006. The store's approach to pet health and well-being matches my philosophy of what is best for our dogs. – Andee Burleigh
Caitlyn Mattern, ABCDT, of Mod Dog Training.
Call for scheduling info and to enroll:
Phone: (951) 858-5525
moddogstraining@gmail.com
instagram.com/moddogtraining/
facebook.com/ModDogTraining
My name is Caitlyn Mattern, and I have been working with dogs professionally for about 3 years now. I received my ABCDT certification from Animal Behavior College in 2018 and am in pursuit of a CPDvateT-KA certification next. – Caitlyn Mattern
Private Training
– In-home lessons tailored to the client's needs
– Initial session (1.5 hrs) $125
– Individual session (1 hr) $99
– Package of 4 (1 hr) sessions $350
– 20% discount for active-duty military families
Group Classes
– Held at The Raw Connection
– Puppy Class, Basic Obedience, More Manners (TBD)
– Classes run for 6 weeks and cost $150/series
Walk & Train
– Teaching dogs to enjoy loose-leash walking
– Owner may be present, or away
– Pricing ranges from $50-100/week
– Discounted monthly packages available
Day Training
– Alternative to Board & Train
– Sessions held in the client's home
– Packages start at $199

Puppy Training
Enlisting in pup classes before 3 months old can be an outstanding methods of boosting training, enhancing the human-animal bond, and interacting socially puppies in an setting where risk of ailment can be lessened. As a whole, pups can begin puppy socialization courses as very early as 7-8 weeks of age. Young puppy socializing courses use a risk-free and organized means of socializing pups as well as quicker enhance their responsiveness to requests. Early and ample young puppy socialization as well as programs of positive pet dog training can go a long way to preventing habits troubles and improving bonding in between people and pet dogs. While the initial 3 months is the most important puppy socialization duration in a pup's life, proprietors of puppies that have actually passed this milestone are strongly urged to continue to mingle their puppies to as lots of people, pets, as well as locations as sensible.


House Breaking & Potty Training
House training your pup is about uniformity, perseverance, as well as positive support. The goal is to instill good behaviors as well as develop a caring bond with your pet dog.
Professionals advise that you begin residence training your young puppy when they are between 12 weeks and 16 weeks old. At that point, they have adequate control of their bladder and bowel movements to discover to hold it. With The Raw Connection's expertise, we offer you the devices as well as strategies to best residence train your new furever friend.

Behavior Modification
Here at The Raw Connection, we specialize in pet behavior modification. Pet behavior modification is where we alter existing pet dog actions. This consists of yet is not restricted to training in or modifying chain rules, eating, pet dog source guarding, barking, splitting up stress and anxiety, chain lunging, chain aggressiveness, dog-on-dog aggressiveness, and pet to human aggression.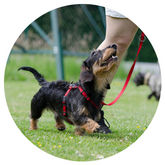 Beginner Training
Beginner training for pets is necessary. Pet dogs intend to please, so with these beginner techniques and also techniques, they will provide your pet's opportunities to make you pleased. Our training courses start with the traditional sit, stay and come. However as your dog developments, we offer extra challenging requests that are supplied in our various other training courses! These are developed to maintain your pet engaged and on their toes.

Come visit our pet supply store in Carmel, CA specializing in quality food, treats, and supplies for cats and dogs.